Frozen Watermelon Smoothie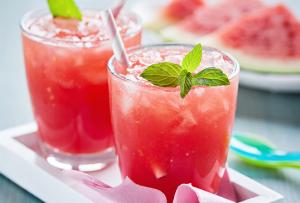 Ingredients
Fresh mint leaves (for garnish)
Preparation
Here's another cool idea, simple and quick to make!
Mix your watermelon, which you previously removed the seeds and skin, in your Lagrange Blender.
Put your mixture in the refrigerator.
Meanwhile, make the ice using your Lagrange Ice Express and crush ice in your blender with the 'Ice' mode.
Add crushed ice to the smoothie.
Divide in pretty glasses, garnish with mint leaves.
... And enjoy!