Colorful Beet and Potato Purée
(recipe for 4 people)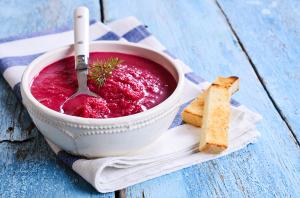 Ingredients
2 beets
4 potatoes ("bintje" is ideal)
2-3 tablespoons of cream (you can choose full or light)
a pinch of nutmeg (forever tastier)
Salt and pepper
Preparation
To begin
Original, delicious and easy! While you peel, wash and cut your vegetables, heat water in a saucepan.
Once soft and tender, the vegetables are ready to be submerged in the glass bowl of your Lagrange Blender .
Then
Set the mixing time (very simple since the blender has a predefined mode for purees) and ... presto! A little nutmeg, salt and pepper and it's ready.
Kids will love the pink color and the taste of delicious mashed potatoes!