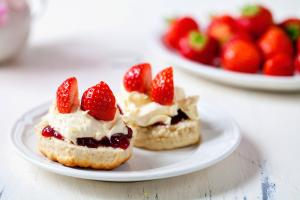 Ingredients
250g of flour
40g butter
A glass of milk (preferably small)
3 teaspoons powdered sugar
1 packet of dry yeast
Preparation
Mix (by hand!) Flour, butter and yeast.
Then add the sugar and milk. Make sure your dough is soft.
Preheat oven to 220 ° C.
Spread your mixture on the pan to a thickness of 2 cm.
Cut small circles that will cook in the oven for a quarter of an hour.
Your golden and puffy scones are to be enjoyed without waiting!
Accompany them with a bergamot tea made with your kettle Lagrange Hemisphere®.