Grilled Tuna and Prune Skewers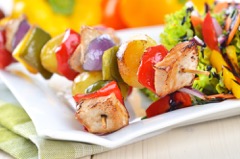 Ingredients
800 g fresh tuna (otherwise buy frozen steaks)
2 slices of bacon (smoked or not)
thirty prunes (pitted, it is more convenient)
a dozen cherry tomatoes (or even more: they will serve as an aperitif)
a little olive oil
a large lemon
1 fresh sprig of thyme
Preparation
For this to be very good, marinate your tuna cubes (yes, they should be cut!) With lemon juice, a few tablespoons of olive oil and thyme.
How long ?
Overnight in the refrigerator is ideal.
It would be wise to start preparing the day before ... then alternate on your skewer, tuna, cherry tomatoes and prunes.
To cook two to three minutes on each side is enough (otherwise tuna is dry and not very good).
Very simple, tasty and original for Father's Day!

And kids love make skewers. Ask them to help you!