Mom's favourite Berry Crumble
(recipe for 4 people)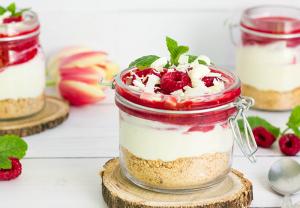 Ingredients
8 shortbread or Breton biscuits
1 liter of whole milk
6 drops of rennet
1 tablespoon of cottage cheese
2 tablespoons powdered sugar
1 container of raspberries
1 container of blueberries
1 container of blackberries
1 container of redcurrants
Preparation
Make your fromage blanc mixture one day ahead of time
Vigorously mix the cheese with whole milk.
Add 6 drops of rennet and mix gently.
Pour mixture into large curds of Lagrange cheesemaker.
Put the cheesemaker on for 12 hours of heat.
Once the cycle is complete, remove the strainer and drain the whey content in the pot.
Put the cheese strainer in high drainage position until ready to serve.
Just before serving, stir fromage blanc vigorously with powdered sugar in a large bowl.
Crush the biscuits and arrange them at the bottom of each of the glasses.
Add the sweet fromage blanc and red fruit.
You can decorate with a red fruit coulis served on the side or over the fruit.

A delight! Mom will be thrilled ...