Yogurt-Cheese Maker Ligne
459602
One of our best-selling products, the yogurt maker is dream machine for making delicious homemade yogurts, whether all natural or in your favorite flavor.
Precision crafted, its features a backlit LED screen, is programmable up to 25 hours and turns off automatically at the end of the cooking cycle.
En savoir plus
The minimum purchase order quantity for the product is 1
Including 0,30 € for ecotax
Warning: Last items in stock!
Availability date:
Délai de livraison :10 jours ouvrés
Description du produit
Lesproduit
Easy to use: the electronic yogurt maker stops automatically and gives a sound notification at the end of the cycle
Optimized performances and multifunction: yogurts but also home-made fromage frais and cottage cheese.
Multifunction: functions for making yogurts, drinking yogurts and cheese (fromage frais, cottage cheese).
The "2 in 1" multifunction yogurt-cheese maker is dedicated to dairy products. It has the same aptitudes as the new and improved yogurt maker, allowing you to make yogurts, drinking yogurts but also home-made fromage frais and cottage cheese. A must for all lovers of natural food preparation.
The new yogurt-cheese maker is square-shaped with a set of new functions and comes with a whole set of crafty accessories for tasty everyday snacks. Staying faithful to its past, it has kept the essential characteristics but has adopted many improvements such as its square shape for easy storage and its touch-sensitive screen for even easier use.
The Lagrange yogurt-cheese maker is very precise and can easily be programmed for up to 25 hours on its touch-sensitive screen with backlighting. It stops automatically and rings at the end of the program. It has a preparation time adjustment which is essential for adapting to all diets and types of milk used: skimmed, semi-skimmed, whole or also soya, almond or oat milk.
It is designed to meet the needs of families and all tastes. It includes a new program dedicated to drinking yogurts, great for eating on the run, and comes with nine 185-gram jars. It has a large capacity which is very practical for flavoring each preparation to your taste, with fruit or jam. And because you need to remove the covers from the yogurt jars during preparation in the yogurt maker, Lagrange has designed and patented practical covers that can be stacked on each other near the machine for easy and quick storage.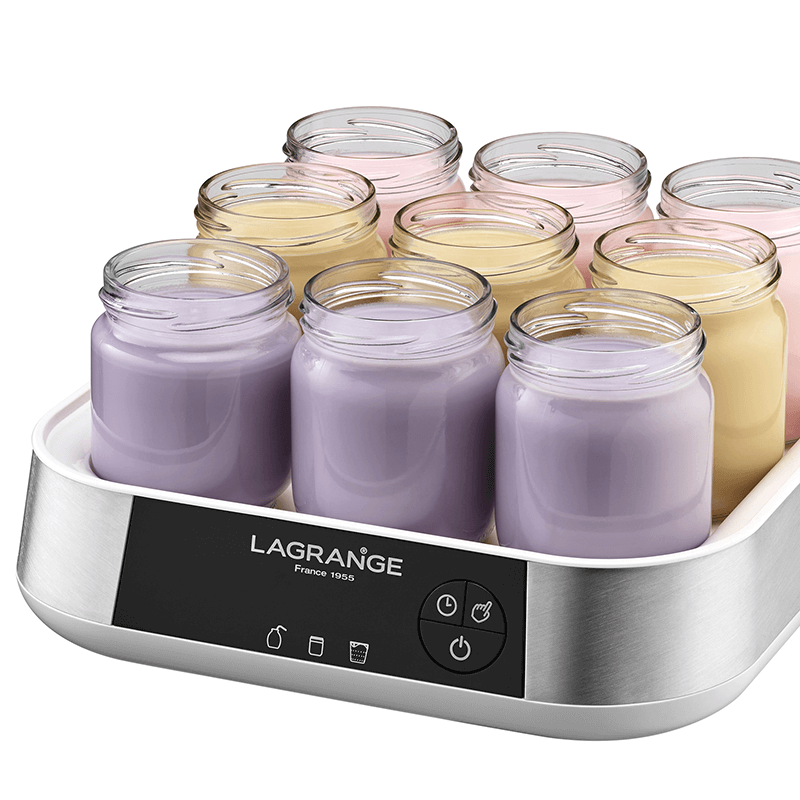 Caractéristiques techniques
Programmable up to 25 hours
Electronic display with backlight
Electronic timer with automatic stop
Sound notification at end of preparation
9 glass jars (capacity 185g)
4 small cottage cheese jars(0.25 liter) - flexible polypropylene covers
Lids with convenient integrated labeling area to mark the flavor of yogurt, date of creation ...
Erasable marker provided
Stackable lids for a clever storage when making yogurt
Aluminum bands
Thermoplastic body
Anti-slip pads
Accessoires recommandés avec le produit Yogurt-Cheese Maker Ligne